The front cover of Christopher Pages' new book"The Guitar in Tudor England" shows a guitar depicted in marquetry form on a table in Hardwick Hall.  The thing that immediately drew my attention was that the soundhole is positioned below the waist of the body, rather than its more usual position a little above.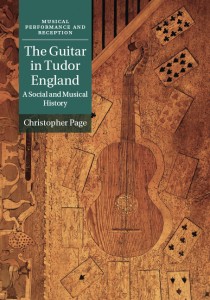 A article mentioning the book gives another illustration of a rather similar guitar that also shares this feature.
Apparently it is the border of a portrait of Robert Dudley, Earl of Leicester.  Having two depictions of similar instruments suggests it is less likely to be artistic license.  Were guitars made like this in Tudor times, and if so, what difference to the sound/barring etc. is this likely to make?